Girls with a cause competition
We've teamed up with Penguin publishing for a fantastic one-off competition to help save the world! Competition now closed.
Girlguiding
07 October 2019
We're collaborating with Penguin around James Patterson's new book, Max Einstein: Rebels with a Cause, the second book in the Max Einstein series.
Max Einstein is here to show girls that they can do anything. So I'm delighted to be working with Girlguiding to inspire the next generation of rebels, thinkers, inventors and world-savers' - James Patterson
Simply design an invention to solve one of the world's problems to win!
Meet our winners
We're proud to announce that Charlotte and Destiny from 1st Frodingham Brownies are our winners, with their fantastic design of a robot that eats bullying and waste plastic, and turns them into rainbows!
Their winning design will appear in the paperback edition of Max Einstein: Rebels with a Cause, and both Brownies will recieve free copies of the book.
They also won a Skype call with competition judge Maddie Moate (CBBC).
From winning the competition, we've learnt to keep up our ideas and carry on rather than being nervous and shy. It was an amazing opportunity to have a Skype call with Maddie and a lot of fun' - Destiny
With Maddie, we talked about how it felt when we were told we'd won - when I found out, I ran home and went: 'I'm gonna be famous, I'm gonna be famous!' - and how we thought up the invention. At school it was Anti-Bullying Week and we were also doing stuff about plastic and recycling, so the idea just popped into our heads. And who doesn't like rainbows?' - Charlotte
Destiny (left) and Charlotte with their winning entry.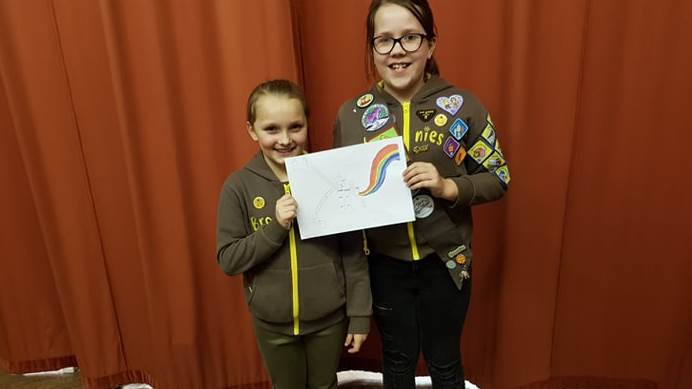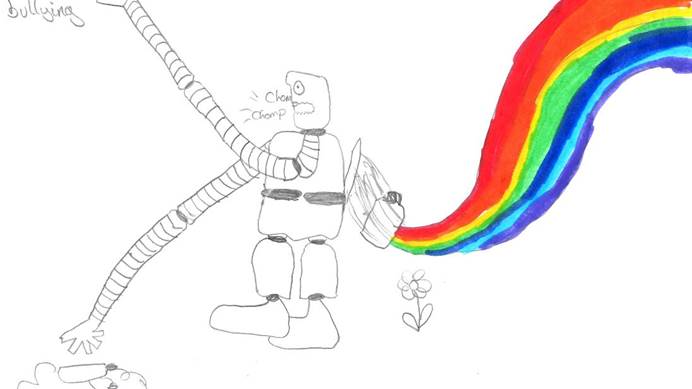 About the competition
The competition is now closed. Thank you to all our members who took part.
The competition was open to all guiding members, from Rainbows to Rangers, who had to work together in their units or individually, to wow the judges.
The judging panel comprised Maddie Moate (CBBC), Liz Bonnin (Blue Planet) and Leslie Sarango Romero (young tech award winner).
I'm so excited to be involved in a competition that encourages girls and young women to flex their creative muscles and imagine, design and invent. By encouraging them to maintain their curiosity about the natural world and to embrace the STEM subjects that support their inquisitive minds, this project will go a long way towards inspiring girls to shine as adults and become the powerful forces for change I believe all women can be - Liz Bonnin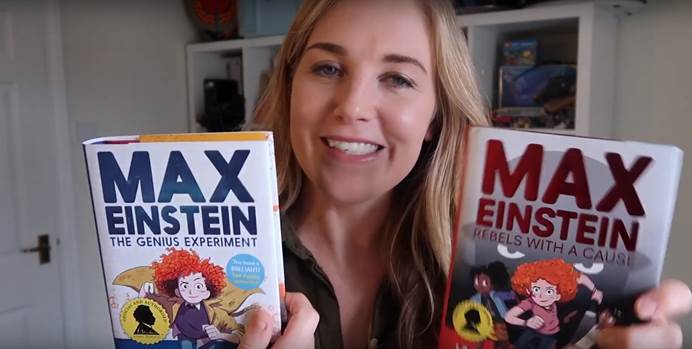 Terms and Conditions
To enter this competition, you must be entering on behalf of a Rainbow, Brownie, Guide, Ranger or The Senior Section as an individual or unit.
You must be a resident of the UK to enter this competition.
If you are submitting on behalf of an individual or unit, you must bring these terms and conditions to the attention of the individual or unit before their entry is submitted.
Designs are submitted in good faith, under the understanding that they belong to the person that submitted them. If you are submitting on behalf of someone else, or using their material, you need to make sure that you have their full permission to do so and that they agree fully to all the terms and conditions.
There is no entry fee to enter this competition.
The competition is not open to the employees (or immediate families of) Girlguiding UK and The Random House Group or anyone else connected in any way with the competition or helping set up the competition.
Entries must be submitted by email to

[email protected]

, on Twitter with #GirlguidingMaxEinsteinComp and #GirlswithaCause tagging @guidingmembers or on Facebook using #GirlguidingMaxEinsteinComp and #GirlswithaCause and tagging @girlguidingformembers, @JP_Books and @PenguinUKBooks.
If you are entering the competition via Twitter, please know that the competition is in no way endorsed or connected with Twitter and Twitter has no responsibility.
No responsibility will be accepted for entries that aren't received for whatever reason.
The winners will be selected by a panel of Girlguiding and The Random House Group staff as well as Liz Bonnin, Maddie Moate and Leslie Sarango Romero.
Designs are submitted in good faith, under the understanding that they belong to the person that submitted them.
Designs may be used in any publicity material by Girlguiding and The Random House Group.
The first place prize will include your submitted design being published within the paperback edition of Max Einstein: Rebels with a Cause ("the Book") alongside your first name and age. By submitting your design to this competition, you agree The Random House Group may publish your design within the Book alongside your first name and age.
Any personal data relating to the winner or any other entrants will be used solely in accordance with current UK data protection legislation and will not be disclosed to a third party without the entrant's prior consent.
By agreeing to these terms and conditions, The Random House Group and Girlguiding also reserve the right to have a royalty-free, non-exclusive licence to edit, publish, translate, modify, adapt, make available and distribute the entry throughout the world in any media now known or later invented. Designs may be used in any publicity material by Girlguiding and The Random House Group.
By entering this competition, all entrants agree to be bound by the competition terms and conditions and consent to the use of their personal data by The Random House Group for the purposes of running the competition as detailed in those terms. Details on how we process the personal data of entrants can be found in our Privacy Policy.
The closing date is midnight on 17 November 2019 and after this date no further entries will be accepted.
If you win the competition, we'll notify you by mid-November. If you don't respond within two weeks, we'll select an alternative winner.
Decisions by Girlguiding and The Random House Group in respect to all matters to do with the competition will be final and no correspondence will be entered into.
Girlguiding reserves the right to amend these rules at any time.