The Growth and Insight team
We're developing new ways to recruit - and keep - volunteers and girls. Meet our team and hear about our current projects
Our team is working on innovative ways to support the growth of our membership
In the Growth and Insight team, we create resources and trial new ideas that will help you get new adults and girls to join Girlguiding, as well as giving them reasons to stay. We're made up of an Insight team and Growth and Communities team.
Meet some of the team and get some insight into our current projects and future plans.
Tamsin
Head of Growth & Insight
I oversee all of the projects in Growth & Insight and manage the growth strategy.
It's up to me to ensure that we're all working together to pilot new initiatives that will help local guiding recruit and retain members.
I'm also a flying enthusiast, tennis player and hiker.
Emma
Growth & Insight Project Assistant
I support the Growth & Insight team with a range of different projects aimed at improving the recruitment and retention of members, with a particular focus on those from underrepresented communities.
Earlier this year, I developed an 'Insight Hub' this is a collection of all the research held at Girlguiding across all teams organised in one place to make it easier for staff to find the research they need and help everyone benefit from the work carried out by other teams.
In my spare time I am a leader at Rainbows and Brownies. I love to bake, read, play netball and spend time with my dachshund, Poppy!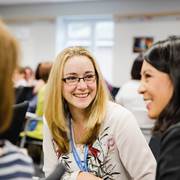 Vacant
Growth & Communities Manager
The Growth & Communities Manager oversees the development of our staff/volunteer growth model – looking at how growth and development staff can work collaboratively with local volunteers to help strengthen and grow guiding from the ground up.
We will be recruiting a new manager shortly!
Areenay
Insight Manager
Our team uses evidence and data to generate insights that help us to make decisions across all aspects of our membership. We use data analysis and service design methods to develop new resources, services and interventions to help us grow. I'll also be leading on the development of our new impact framework.
I like yoga, musicals, bread and my new favourite hobby is learning trapeze skills.
Sean
Data Analyst
I look for insights in data to help understand how Girlguiding can increase the size and diversity of its membership. For this I'm mostly using data from GO. I also support the Growth & Insight team on several projects, and the countries and regions to help answer questions they may have about their own data.
In my spare time I am a keen guitar player, and I enjoy hiking when the weather allows.
Alice
Growth & Insight Project Coordinator (on leave currently)
I support and coordinate projects to help membership growth, often working with other teams across Girlguiding HQ.
Recently I've been working the development of a new resource – Start-up kit – a pick-up, easy-to-use guide on how to set up a new unit for people who are brand new to guiding.
I love art, breakfast cereal and walking around London.
Ayesha
Growth & Insight Project Coordinator (maternity cover)
I support and coordinate projects to develop and implement insight so we can deliver better for our members, and ultimately the girls too. I am currently working on supporting the better communication of insight to aid growth, accross Girlguiding.
I love reading, cooking and rock climbing.
Louise
Delivering Diversity Project Manager
My third role in the team sees me managing the WAGGGS/UPS funded project, Delivering diversity. We support volunteers and staff to increase and diversify our membership through pilot projects across the UK. Reviewing and scaling up what works, so more girls can join Girlguiding and reach their potential.
I have two daughters who keep me on my toes - we love baking, making and adventuring together.
Penny
Space to Grow Together Delivery Manager
Together with Becca, I manage the growth strand of the Space to Grow Together Project, through which our Growth and Community Coordinators are partnering with volunteers to grow our membership in local communities.
I keep an eye on our finances and make sure we're capturing and reporting our learning, so that we can better understand what helps us grow and reach into new communities.
I enjoy long walks, good food and running around after my one-year-old.
Jennie
I am concentrating on finding volunteers to open up new units in an area of recent, rapid expansion of housing. I will be setting up my recruitment stand at lots of events to promote Girlguiding and attract volunteers. Welcome events are also at the top of my list to encourage 'bring a friend' days in my local units
A fun fact about myself is that I love 'A Midsummer Night's Dream' and dressed up as a fairy on my hen do!
Liz
Growth and Communities Coordinator - West Mercia
I'm working with the West Mercia region to get new units opened, allowing lots more girls to join Girlguiding! I want to make sure every new volunteer gets a warm welcome and new units are supported. I plan to engage with the wider community to diversify our membership and raise our profile on social media.
Outside of work I love being part of my nieces' and nephew's lives! I also run retreats to help people have an easier experience of life.
Lisa
Growth and Communities Coordinator - Leicestershire and Derbyshire
I am working in partnership with volunteers and fellow staff members to provide more opportunities for girls and adults, across both counties, to join in with the fun that we are having in Guiding. Increasing participation not only means opening new units and recruiting additional leaders but also involves diversifying the offers which local Guiding are able to provide and raising the profile of what we do. I'm excited to be 'living the dream' in this role – a fact that will become obvious when you meet me given how enthusiastic I am about all things Girlguiding!
Whilst I love being up and about, I can sleep anywhere - I've been known to fall asleep sat on the (very loud) speaker tower at a nightclub.
Jenni
Growth and Communities Coordinator - Kent West
My role is to work in partnership with volunteers to drive forward growth and increase diversity of our membership.
I am looking to encouraging flexible volunteering opportunities for occasional volunteers alongside recruiting leaders. I hope that some of the occasional volunteers will keep engaged with guiding and decide to become leaders.
Beth
Growth and Communities Coordinator - Sefton and Wirral
I am excited to come on board the Girlguiding team to help develop, grow and sustain the future of guiding through the Space to Grow Together project. In this very early stage of the project I am happy to say I have been received most positively within the two Counties and have begun establishing relationships within both guiding and the local communities.
Sally
Growth and Communities Coordinator - Manchester, Lancashire and Stockport
I'm working with Manchester, Lancashire and Stockport to focus on recruiting volunteers and diversifying our members. I will be talking to businesses to show how volunteering can enhance their employees lives and get them on board to recruit more leaders.
Becky
Growth and Communities Coordinator - Croydon and Surrey East
I'm the Growth and Communities Coordinator for Croydon and Surrey East; the aim is to promote girlguiding around these areas, build on recruitment of volunteers and open new units for girls to enjoy.
In my spare time I enjoy cooking, Netflix box sets and general socialising :)
Follow us on Twitter
See tips for growing guiding in your area, and join in with our fun weekly poll!
Follow @GrowingGuiding
How we're growing our membership