Using different venues
Try a new venue to welcome more girls, be more accessible or make activities easier
Get creative about where your unit meets
Trying out a new venue can make a huge difference. New facilities can mean new activities and more space so more girls can join in. A different location could also make it easier for girls to reach you, and a better equipped building could make it possible for you to welcome girls with disabilities.
Options to try
Community venues - we've all heard of units meeting in school halls and community centres, but what about trying other locations owned by not-for-profit organisations, such as charity cafes or consortium spaces? Another charity may let you use its venue at a reduced rate.
Supermarkets - some local supermarkets have attached community rooms which can be booked.
Workplace venues - after work hours, conference and meeting rooms become great places to run around! Chat to parents and people from local businesses to see what they have on offer.
If you are hiring a venue, don't forget that Girlguiding is a charity so see if they can offer a reduced rate.
Rotating venues - if you're in a small County (or large District or Division) and you have trouble reaching some girls, try having a venue rota and visit a different space every week. One unit in Scotland does this, and although it means not all girls attend regularly, it does mean some are able to come who couldn't otherwise. It also means they can change venues depending on the activity - some halls have better kitchens, for example.
When choosing your venue, remember to think about the different people who may wish to access your unit and aim to find one that doesn't create physical, cultural or social barriers to them attending.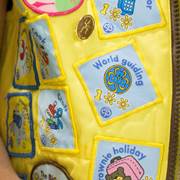 3rd Southall Brownies
This group has been open since February 2014 and moved to its current venue - the Windmill Park Children's Centre, owned by Catalyst Housing Association - in February 2015. The group is very diverse and the members mostly live in the surrounding housing estate. Volunteer Sulekha Harrish said, 'I was volunteering as part of my Duke of Edinburgh Bronze Award, but I'm going to keep going volunteering because I have really enjoyed it. I've spoken to a few of the parents. I think the girls are really enjoying it. We've had lots of new people coming.'
Give girls an amazing guiding experience