Help girls break stereotypes this International Women's Day
90% of Rainbows say it makes them sad when they're told they can't do something because they're a girl.
Girls want a world where no sport, activity or subject is off limits.
Girlguiding gives girls a safe space to challenge themselves and stereotypes – and the confidence to be or do anything they want.
'Because of the confidence my daughter has found at Brownies, she feels able to push herself'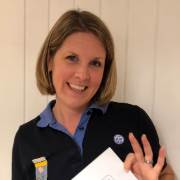 Fliss
Mum to two Brownies and one Rainbow, Girlguiding volunteer and Assistant Leader in training
'I've seen each of my three girls – aged five, eight and ten – get something different out of Rainbows and Brownies. It really does have something to benefit every girl!'
Developing leadership skills
When my eldest daughter first started Brownies, she was cripplingly shy. In her first few weeks the girls made junk models and presented them to the unit, but my daughter barely said anything and hid behind her model.

She's ten now and the change is amazing. While she's still quiet at school, she absolutely shines at Brownies.

She's a real role model to the younger girls and has taken a leadership role by being a Sixer – she has really found her place at Brownies. She even says she wants to be a unit helper when she grows up!'
Pushing boundaries
My eight-year-old is really creative; she loves music, theatre and crafts. But at Brownies she's found a safe space to challenge herself and try things that might not typically be seen as "girls' activities".

Recently our unit tried climbing and bouldering – something that doesn't come naturally to her. Because of the confidence she's found at Brownies, she felt able to push herself and was so determined to get involved.

She doesn't feel the need to compare herself to others when she's there – she's able to be completely herself.'
Can you help more girls believe in themselves?
As a charity, we depend on the generosity of people like you who understand the importance of what we do for girls.
This International Women's Day, as we celebrate the achievements of amazing women across the world, could you spare a gift of £10, or whatever you can afford, to help more girls discover new skills and challenge themselves through Girlguiding?