Girlguiding and BBC Children in Need
We've teamed up with BBC Children in Need again this year for a dance-themed fundraising challenge!
We are excited to be working together with BBC Children in Need again this year.
This year BBC Children in Need has partnered with BBC One's Strictly Come Dancing, so we're asking Rainbows, Brownies, Guides, Rangers and volunteers to add a Strictly twist to your fundraising.
Whether it's taking part in a dance-athon to see how many moves you can do in an hour, or hosting a ballroom themed bake sale - whatever the fundraising challenge, together our members will be helping to empower and change the lives of young people across the UK.
The money raised through the partnership between BBC Children in Need and Girlguiding will be split equally between the two organisations. 50% of the total funds raised will support BBC Children in Need's projects and 25% will support Girlguiding's national projects. The final 25% of funds raised by this appeal will support local Girlguiding.
Ideas for taking part
There are so many ways you can fundraise and take part. Here are some ideas:
Dance challenge – learn a new dance, or put on a dance show for friends and family
Bake sale – create some ballroom themed treats – how about a Viennese whirl or a Cha-Cha-Cha chocolate cake?
Achieving a ten score – whether that be walking, skipping or running for 10 minutes or 10 miles.
Upcycle things to sell and raise money – did you know the costumes on Strictly Come Dancing are upcycled?
However you chose to fundraise, we can't wait to see how you get involved again this year – please share with us on social media too!
Before you get started, check out BBC Children in Need's fundraising pack (PDF).
And we've created a social media toolkit (ZIP) and guidelines (PowerPoint) that you can use to promote your fundraising activities.
Something special in the shop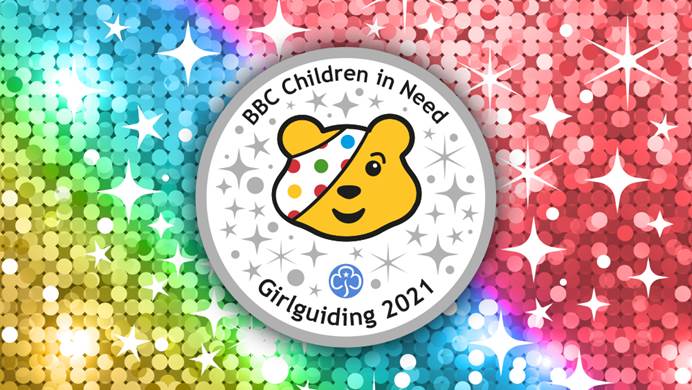 Show your support or shout about your fundraising achievements with our BBC Children in Need and Girlguiding fun badge for 2021. Featuring Pudsey Bear, this colourful and sparkly woven badge is a great way to celebrate our partnership or remember how you supported two amazing charities. Anyone can earn and buy the badge.
New for this year, we have a pack of hair scrunchies! Each pack comes with a blue, yellow and white scrunchie featuring Pudsey bear and the Girlguiding trefoil - a great way to support two great causes.
Get yours now from the Girlguiding shop.
50% of profits from the sale of the badges and scrunchies will be paid to BBC Children in Need.
What your fundraising means to us
£5 could help to fund national campaigning working and give girls a platform to speak out on the things that matter to them.
£10 could give girls the chance to take on new challenges, grow in confidence and break stereotypes.
£20 could help train Rangers to become Peer Educators and talk about important topics like body confidence and mental wellbeing with younger girls.
£30 could help pay for volunteers to take part in leadership training so they can be inspiring role models for girls and young women.
£50 could support an accessible guiding grant and help to fund 1:1 carer for a girl attending her first overnight camp.
£250 could fund a grant to open a new unit and let more girls experience the adventures, fun and friendship that guiding has to offer.
How your money could help Children in Need
BBC Children in Need's vision is that every child in the UK has a safe, happy and secure childhood and the chance to reach their potential. The charity will realise this vision by supporting, promoting and publicising work that addresses the challenges that children and young people face and work that builds their skills and resilience.
BBC Children in Need is currently supporting over 3,900 local charities and projects in communities across the UK that are helping children and young people facing a range of disadvantages such as living in poverty, being disabled or ill, or experiencing distress, neglect or trauma.
£30 means a teenager with a life limiting illness can attend a music therapy session, enabling them to express their feelings, to be creative and to have fun.
£50 means a 10 year old boy affected by domestic abuse can attend a counselling session, helping him to express his feelings, to feel more confident and less worried about his Mum's safety.
£100 pays for a series of 1-2-1 support sessions for a teenage girl experiencing mental health issues helping her to feel less alone and isolated and improve her emotional wellbeing.
The money raised through the partnership between BBC Children in Need and Girlguiding will be split equally between the 2 organisations and will go on to make a difference to young lives across the UK.
BBC Children in Need is a registered charity 802052 in England and Wales and SC039557 in Scotland. BBC Children in Need, Pudsey Bear and Blush are trade marks of the BBC and are used under licence. Girlguiding is the operating name of The Guide Association registered charity 306016 in England.