Fundraising top tips
Get inspiration and practical advice to help you fundraise successfully
By raising money for Girlguiding, you're making an incredible investment in girls' futures
You can fundraise with your friends and family, at school or in your workplace - and no matter how much time you have to commit, there'll be an idea to suit you. Here are some top tips to get your fundraising off to a flying start.
Unless you're fundraising for Girlguiding nationally, you mustn't use Girlguiding's national charity number (306016). If you need further information on the use of charity numbers, please read our guidance on charitable status.
What will you do?
The first step is to decide how you're going to fundraise. You may have thought about more traditional ways to do this - such as sponsored runs and raffles - but the more you think outside the box, the more interest you're likely to drum up. Here are some inspirational (but achievable!) suggestions for innovative fundraising.
Dress up

- organise a non-uniform/dress down day at your school or workplace - or take it further and get people to come in costume! Ask everyone for a small donation to take part.
Sponsored somethings - if your friends or colleagues are interested in getting fit and healthy then a sponsored run or walk might be just the trick. You can pick anything challenging to sponsor - from shaving your head to a space-hopper bounce - the sky's the limit.
You've got talent - talent competitions, gigs and fashion shows are a great way to engage supporters from outside your family and friends. Use ticket sales and collection buckets to raise funds.
Sell, sell, sell - sales are a very simple, low-maintenance way to collect donations. Jumble sales and car boots are a good staple, but you can add a competition-factor or twist to increase people's engagement for example, with a bake-off or a sale of home-made crafts.
Quiz it up - hold a general knowledge quiz or you can choose another theme popular in your social circle. Test people on a famous TV show, specific topic or - if you're one of our members - the history of guiding.

Finders keepers

- treasure hunts are great, especially if you want to involve younger children in your fundraising. Link them to a time of year to bring in outside interest - for example, an Easter-themed hunt in April, or a Christmas-themed hunt in December!
Always carry out fundraising safely and within the law. If you have any questions, contact the Fundraising team.
Maximise your activity
Fundraising isn't just about having a great idea - you need to get as many people on board as possible. Follow these tips to ensure you make the most out of your hard work.
Plan for success

- once you've decided how you want to fundraise, follow our planning tips to make sure it runs smoothly. Allow yourself plenty of time to deliver your plan.

Work your networks

- colleagues, old school or Facebook friends, far-flung family members, fellow parents – spread the word as far as you can. You never know who'll donate, or will be able to help in some other way. Social media is a great way to share your fundraising with a wide network of people.

Make it personal

- we're so grateful that you've chosen to support Girlguiding – and whatever your reason, we're willing to bet there's a story worth telling. So if guiding has changed your life or the life of someone you know, tell people. Your personal experience is the most powerful way to convince them to contribute.

Stay in touch

- take your supporters on a journey with updates on your progress that nudge people to donate or sponsor you and show your hard work for Girlguiding. Let people know about your latest training session or give them a chance to pick a theme for your quiz's bonus round.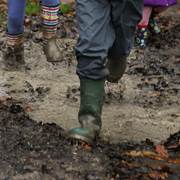 James Etheridge
Fundraised for Girlguiding by cycling 100km and undertaking a muddy 20km obstacle course
I used JustGiving to collect donations, and shared the link through social media and email a few times during my training. I also blogged about my training progress – the painful and the enjoyable bits! – and shared photos on Facebook. This showed all my donors and potential donors that I was really putting the effort in for them and Girlguiding. I also got creative by hosting a quiz in my office and baking cakes, which were really popular. I think that these worked well because I was able to give something back to my donors.
Keep your unit's finances in check