Jurassic Coast weekend
Walk the most geologically diverse coastline in the world while raising funds for Girlguiding
Travel back in time to the Jurassic Coast
Stretching 95 miles between Old Harry Rocks in Dorset, to Orcombe Point in East Devon, the Jurassic Coast is the most geologically diverse coastline in the world.
Join our expedition and you will take in some of its most spectacular scenery, from the renowned natural stone archway of Durdle Door to the beautiful circular Lulworth Cove, as you climb and descend the steep hills of the Jurassic Coast.
We will camp at a lovely campsite a short distance from our route.
When:
Please note: This open challenge is organised and run by our partner Discover Adventure. Anyone can take part in the open challenges. And all communications regarding trip registration and logistics should be discussed directly through them, whilst Girlguiding will support you every step of the way with your fundraising.
There are two fundraising options
Fundraising option
You commit to raising the target. Girlguiding will retain 50% of the target, plus any additional fundraising you achieve.
Registration fee: £75
Fundraising target: £490 – covers your donation to Girlguiding, all food, accommodation, camping equipment, transfers within trek, leaders and other support.
Full-payment option
You raise as much money as you can and 100% will go to Girlguiding.
Registration fee: £75
Trip cost: £245 – covers all food, accommodation, camping equipment, transfers within trek, leaders and other support.
Fundraising target: As much as you can!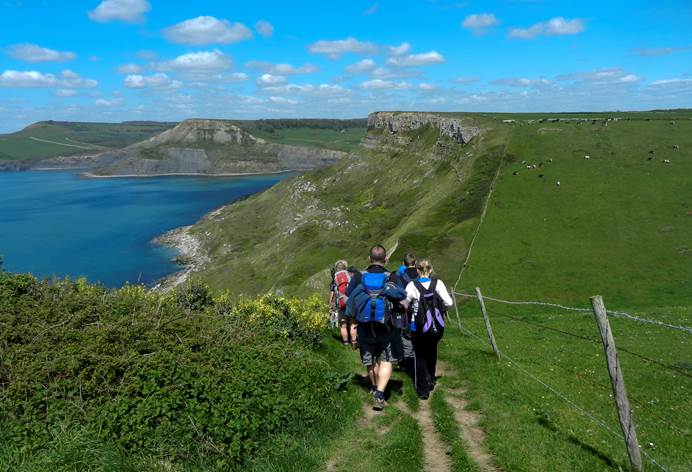 I would like to say having never done anything like this before, I found the whole team fantastic! They made the whole experience – which I found difficult in places – enjoyable. They made you feel we could all finish, which we did! - Penni, previous challenge participant who walked the Jurassic Coast in 2017
About the walk
The exposed cliffs allow you to look back through 185 million years of time - dinosaur remains have been found here, and it's a fossil-hunter's paradise. With a more recent history of mining, shipwrecks and smuggling, this is a fascinating stretch of coastline.
How do I reach my fundraising target?
You'll receive a supporter pack when you sign-up, chock-full of fundraising ideas to get you started. Our dedicated fundraising team can also help you create a tailored fundraising plan to support you in reaching your goal.
How fit do I need to be?
This trek is designed to be challenging to those of good health and fitness, and is achievable for most people provided they train well in advance. After you have signed up, we will provide you with a thorough training guide.
Can I do this on my own?
Yes! When you sign up, you will joining a team of 20+ dedicated fundraisers for various charities – many of which will also be taking on this challenge solo. It's a fantastic opportunity to challenge yourself, to meet new people, and to get out and explore the great British countryside with a friendly team by your side.