Act Your Age
We've partnered with BBC Children in Need to raise money to support good causes for children and young people
We were excited to be an official partner of BBC Children in Need in 2020.
To celebrate Pudsey's 40th year, we asked all our members to come together to take their age and do something good with it.
Whether that was an eight-year-old doing eight minutes of skipping, or a unit that's 13 years old taking on a virtual half marathon - Girlguiding members helped to make a difference to young lives across the UK.
The money raised through the partnership between BBC Children in Need and Girlguiding will be split equally between the two organisations.
50% of the total funds raised will support BBC Children in Need's projects and 25% will support Girlguiding's national projects. The final 25% of funds raised by this appeal will support grants for Girlguiding units.
Our JustGiving page has now closed.
If you completed your challenge after the JustGiving page closed, you can still pay your fundraising in by cheque. Please complete our Paying-in form and include a note letting us know that it was raised as part of your Act Your Age Challenge. We will then make sure that 50% of your fundraising goes to Children in Need.
Cheques can be made payable to Girlguiding and sent to:
Girlguiding
17-19 Buckingham Palace Road
London
SW1W 0PT
Please clearly mark your cheque on the back with 'BBC Children in Need - Act Your Age'.
If you need anymore information please contact [email protected]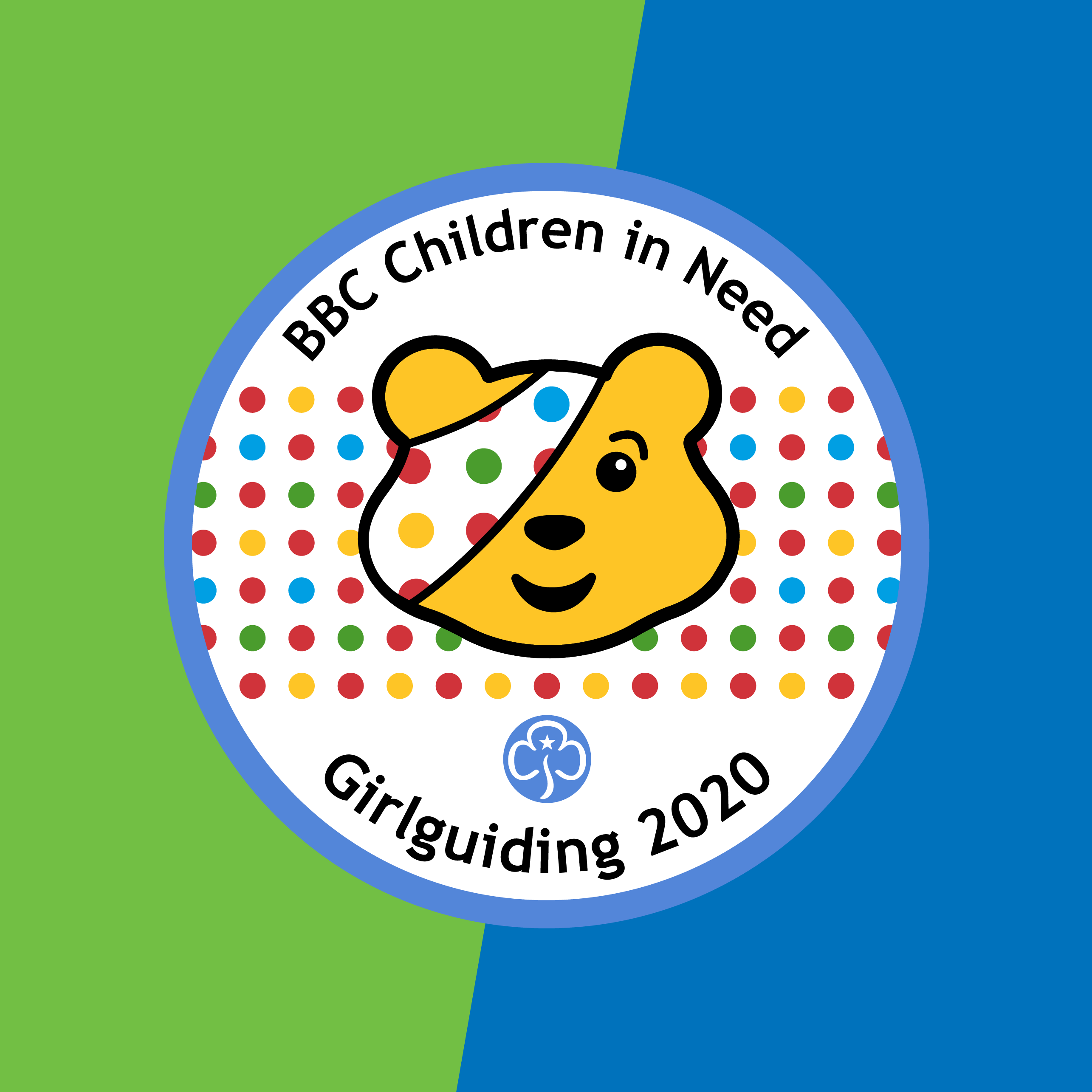 We've also created a special Pudsey badge to celebrate our partnership.
This badge represents both organisations mission and commitment to children and young people. Anyone can earn and buy the badge. Get your special Pudsey badge now.
What your fundraising means to us
£5 could help to fund national campaigning working and give girls a platform to speak out on the things that matter to them.
£10 could give girls the chance to take on new challenges, grow in confidence and break stereotypes.
£20 could help train Rangers to become Peer Educators and talk about important topics like body confidence and mental wellbeing with younger girls.
£30 could help pay for volunteers to take part in leadership training so they can be inspiring role models for girls and young women.
£50 could support an Accessible guiding grant and help to fund 1:1 carer for a girl attending her first overnight camp.
£250 could fund a grant to open a new unit and let more girls experience the adventures, fun and friendship that guiding has to offer.
How your money could help Children in Need
BBC Children in Need's vision is that every child in the UK has a safe, happy and secure childhood and the chance to reach their potential. The charity will realise this vision by supporting, promoting and publicising work that addresses the challenges that children and young people face and work that builds their skills and resilience.
BBC Children in Need is currently supporting over 3,900 local charities and projects in communities across the UK that are helping children and young people facing a range of disadvantages such as living in poverty, being disabled or ill, or experiencing distress, neglect or trauma.
£5 pays for an 11 year old girl who is the carer of both her parents who have mental ill health to attend a drama workshop where she can grow in confidence and communication.
£10 means that a shy 11 year old girl affected by poverty can have weekly support from a mentor who helps uncover new skills and believe in herself.
£30 pays for a 12 year old girl to attend bereavement counselling after her dad died, helping her to cope and build resilience.
£50 will pay for a weekly online dance workshop for children affected by poverty isolated at home, keeping them physically active and enabling them to have fun.
£200 provides a residential weekend for a teenager with a cancer diagnosis to spend time away with peers experiencing similar issues, enabling them to take part in activities, to explore and manage their feelings and to develop strategies to help them cope.
The money raised through the partnership between BBC Children in Need and Girlguiding will be split equally between the 2 organisations and will go on to make a difference to young lives across the UK. BBC Children in Need is a registered charity 802052 in England and Wales and SC039557 in Scotland. Girlguiding is the operating name of The Guide Association registered charity 306016 in England.
Support grants for guiding units
These grants will help units in areas of deprivation and those experiencing financial hardship. We're delighted to have secured external funding to support these grants.